Treating Thyroid Conditions with Integrative TCM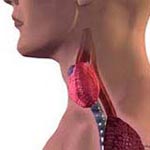 Treating Thyroid Conditions with Integrative TCM
Do you want to get your head around treating thyroid problems once and for all?
Thyroid problems are commonly seen in clinic but most practitioners don't know the specifics of how to deal with them
In this 3hr webinar you will:
- get a very solid understanding of thyroid function and how it relates to Chinese medicine pathology
- learn how to get thyroid antibodies down
- help patients with Graves' disease reverse their disease and avoid surgery
- learn how to give iodine safely to hashimotos patients
- learn a comprehensive approach to healing all aspects of thyroid function
- find out which supplements are must have, which ones are a waste of money, and when Chinese herbs and acupuncture are better
- learn how to apply this to fertility patients so you are supporting good outcomes for mum and baby.
NEW UPDATED CONTENT FOR 2019 with all the latest treatment protocols from Clare's work with thyroid patients.
Live webinar Monday 15th July 2019, 7:30-10:30pm Melbourne time. $75. 3CPD points. Recording available to watch later for all those who register.